OUR PROGRAMS
At Bay Area Wildcats, we offer a range of programs that cater to players of all ages and skill levels. Our programs include team play, development programs, specialized training, and summer camps. Each program is designed to help players develop the skills they need to excel in basketball, while also instilling important values such as teamwork, sportsmanship, and discipline.
Girls Youth Basketball Summer Program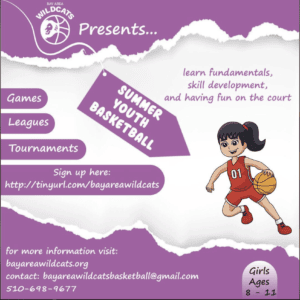 Youth Girls Basketball Tryouts Sunday May 21st 10am @Oakland High School
Looking for a fun and engaging basketball program for your daughter aged 8-11? Our Girls Youth Basketball Program offers twice-a-month practices and games, making it easy to fit basketball training into your busy schedule.
Our program is designed to help young female players improve their basketball skills with experienced coaches who will teach new techniques, strategies, and skills that will give your daughter an edge on the court. But our program is more than just basketball. It's a chance for your daughter to make new friends, build confidence, and develop leadership skills.
Our Girls Youth Basketball Program is open to girls of all skill levels, whether they're new to basketball or experienced players. We'll work with each player to help her reach her full potential and achieve her goals.
The cost for our program is $260 per month, which includes all practices, games, and coaching from experienced professionals. You won't find a better value for a basketball program in the area!
Here's what your daughter can expect from our program:
Twice-a-month practices: Your daughter will learn a variety of basketball skills, including dribbling, shooting, passing, and defense. Our coaches will help her develop her technique and strategy, so she can excel on the court.

Twice-a-month games: Your daughter will have the opportunity to put her skills to the test in twice-a-month games against other teams in the area.

A fun and supportive environment: Our program is designed to be a fun and supportive environment where your daughter can make new friends, build confidence, and develop leadership skills.
Don't miss out on this amazing opportunity! Sign up your daughter for our Girls Youth Basketball Program today and help her take her game to the next level.
Sign up now here and take your game to the next level! Contact us at [email protected] for more information.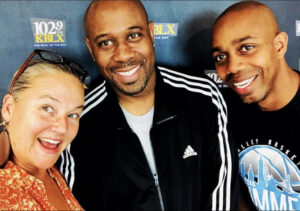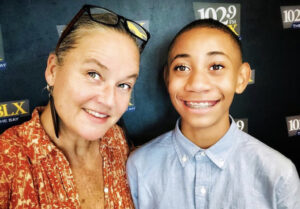 Sterling opened up the KBLX Studio for The Bay Area Wildcats' Executive Director and President, Orlando Watkins and Demetrius Roquemore.
The Bay Area Wildcats are about teaching, instilling and developing the habits that allow all our student-athletes to grow as people, students, and basketball players. Their focus is on the fundamentals and development of great people, great students and great athletes, in that order. The Wildcats offer their services to boys & girls from 3rd grade to 12th grade in the Oakland/Bay Area.
To learn more, make sure to click here.
You can also find them on Instagram: @bayareawildcatsbasketball